Tripawds is a user-supported community. Thank you for your support!
It's an unprecedented hot weekend in Japan (the Tokyo area reached close to 40 degrees centigrate yesterday), so we have been staying indoors in the air conditioned house and putting off more outside buggy trips for Quinta. That does not mean that the weekend has been uneventful.
Friends visited Saturday to check up on Quinta. He was thrilled to see them and was a very gracious host.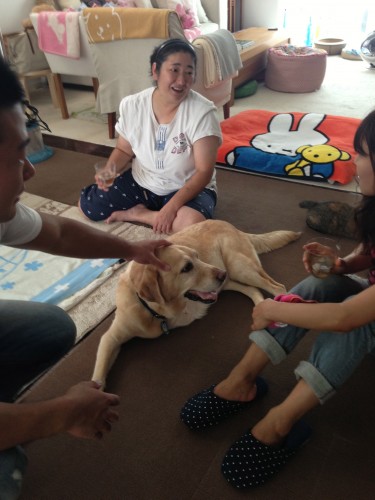 One of our friends brought specially blended organic oils for Quinta for use in his twice-daily massage.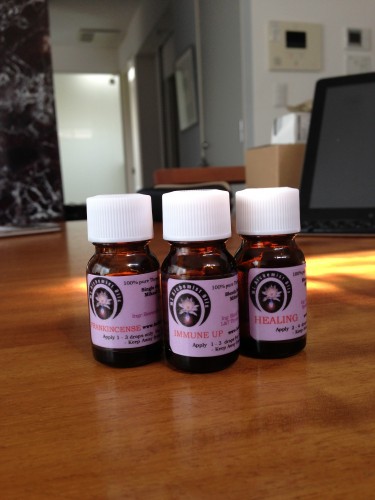 Another friend introduced us to light therapy using a carbon lamp that emits light that is similar to sunlight except for the UV rays. This type of light therapy has been in use in Japan for many years (for people, as well as for pets) and apparently has been effective for all kinds of ailments, including cancer. At the very least, the light seems to have a very relaxing effect on Quinta and allows him to sleep well.
Friends also introduced us to Mozart music therapy, which is popluar here in Japan. We now have a series of Mozart CDs for Quinta and he is quickly becoming a Mozart buff.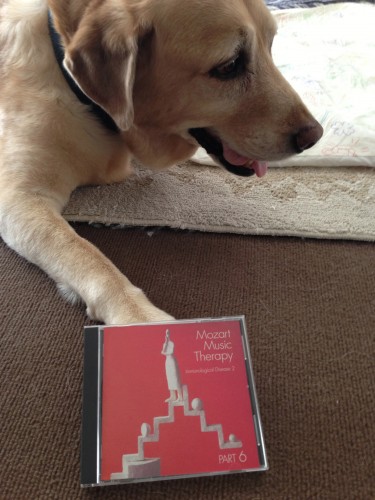 For Quinta, the best "therapy" of all is being surrounded by caring friends and enjoying our peaceful life at home.