Tripawds is a user-supported community. Thank you for your support!
In his anemic condition, Quinta tires easily and pants frequently, especially at night. At the recommendation of our vet, we rented an oxygen machine to help Quinta breath more easily while he is sleeping. This seems to be helping, but Quinta still wakes up several times during the night and pants heavily.
Yesterday, our vet who specializes in Eastern medicine came by to give Quinta his acupuncture treatment. She worked on Quinta's pressure points that are linked to boosting his immune system as well as those that are supposed to relieve his fatigue resulting from the anemia. The treatment seems to have made Quinta feel a lot better — he slept better last night and there was a lot less panting. Today, Quinta seems more relaxed and energetic.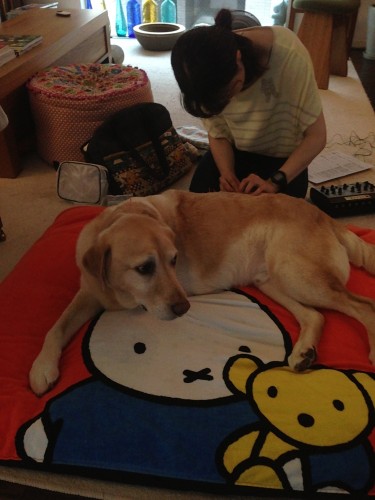 After deciding not to pursue chemotherapy for Quinta, we have been focusing on alternative treatments, especially Eastern medicine. Our vet takes a holistic approach to Quinta's treatment and is able to gain a good sense of his condition by touching various parts of his body and feeling his pulse, without overly relying on numbers and test results. This gives us a lot of comfort; we feel that we have a better understanding of Quinta's overall condition (not just physical, but mental and emotional) and can adapt ourselves to his evolving needs in a more natural way.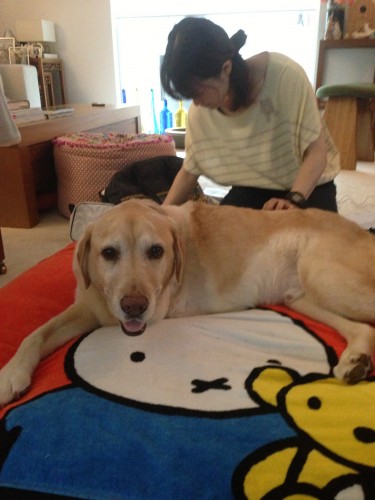 Daily light therapy also seems to be helping Quinta. Every morning, I give him a massage followed by thirty minutes of light therapy. Quinta's little sister Jam is always beside him and looks after him.