Tripawds is a user-supported community. Thank you for your support!
Monday evening, one of our former dog-sitters for Quinta came to visit. She had cared for Quinta for a couple of years several times a week and was one of Quinta's favorite dog-sitters. She had not been aware of Quinta's surgery and cancer diagnosis, but when she found out she rushed over to see Quinta. Quinta was delighted to see her and got up from his bed, excited and wagging his tail.
The dog-sitter brought Quinta a new toy — a stuffed dog wearing a crown, just like a prince. She said that it reminded her of Quinta.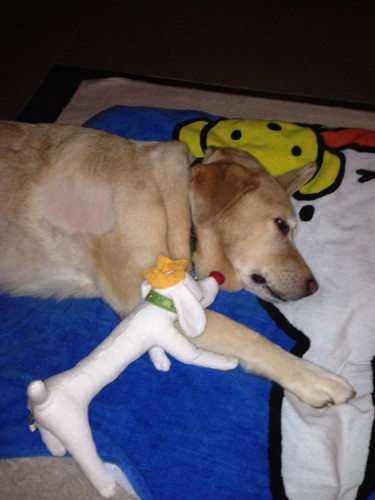 Quinta has always loved soft toys. He has hundreds of stuffed animals in the house and loves to show them off to visitors. I was so happy to see that he still gets excited about new toys, just like he used to before his surgery and cancer diagnosis.
The new toy has quickly become a favorite. It sat next to Quinta this morning as Quinta was getting his light therapy (with Jam watching).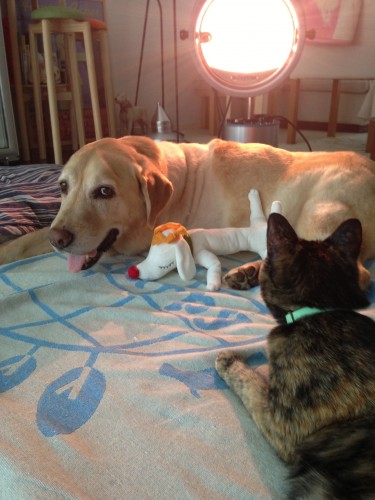 The other day, after I found out about how Quinta's cancer had spread, I was e-mailing a friend and broke down crying. Quinta came to my side to comfort me. It is he who is ill and in discomfort, but Quinta still has the kindest heart to try to comfort me notwithstanding his condition. Every day, Quinta teaches me about compassion and love.