Tripawds is a user-supported community. Thank you for your support!
I spent Tuesday night next to Quinta's body. In the morning, he seemed so peaceful after finally being released from the discomfort of illness. Friends stopped by the house throughout the day to pay their respects and leave flowers. Everyone commented on what a kind and loving dog Quinta was and how much joy he brought to our lives.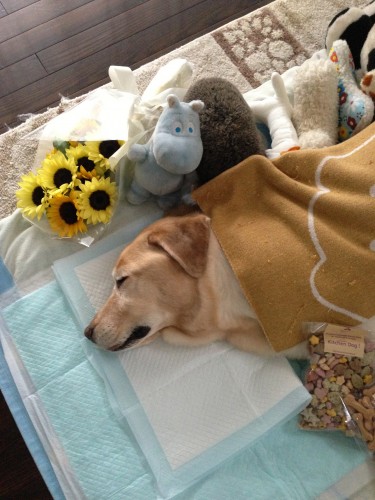 In the afternoon, we held a traditional Buddhist funeral for Quinta at a Buddhist temple. We filled Quinta's hearse with lots of flowers, as well as some of his favorite toys and treats and a photograph of each of the cats and one of Quinta and me together from a trip we took in the snow several years ago. We wanted Quinta to take these things with him, as his soul is released from his body and transitions into a new life/existence as souls are supposed to do under the Buddhist faith. In this sense, physical death is not an end but an event for the soul to move onto a new life. While I am not deeply religious, the basic teachings of Buddhism and the Japanese traditions based on them give me comfort in accepting that Quinta has simply moved on as any living being is bound to do at physical death.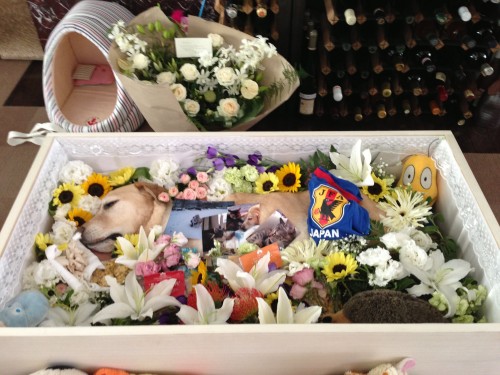 We sat in a small room with a Buddhist altar and the monk chanted traditional Buddhist sutras to assist Quinta's soul in moving onto its new existence. Each of us went up to the alter to light incense.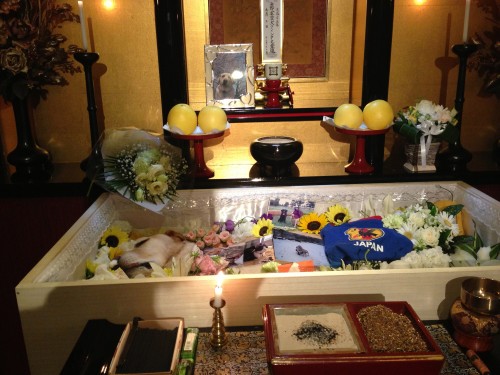 We said goodbye to Quinta for the last time as his hearse was moved to the crematorium. We waited about an hour and a half for the cremation to be completed, and then gathered around Quinta's ashes and carefully picked out his bones with chopsticks to place them into the urn per the Buddhist tradition.
At home, we set up a simple altar for Quinta's remains, surrounded by flowers and some of Quinta's favorite treats. He is home now, albeit in a smaller and different form. The loneliness and emptiness of the house is overwhelming and I realize that it will take a while to adjust to a new life without the physical presence of Quinta. But I know that he is always here in spirit and is looking after my family and friends, with the same kindness and love that he so readily shared with us in his earthly life.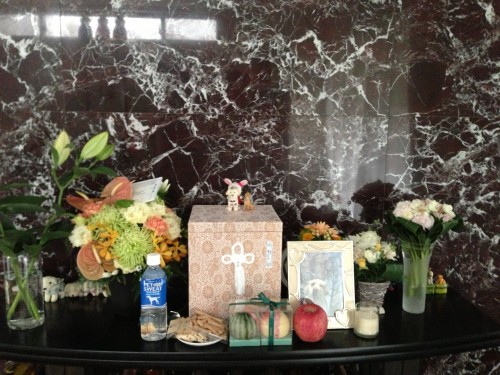 I am deeply thankful for the kind messages of sympathy and support that everyone has sent me, and touched to learn that in such a short time, Quinta has made so many friends all over the world.