Tripawds is a user-supported community. Thank you for your support!
Last night, Quinta went into shock from internal bleeding in his liver. I called our vet who kindly agreed to attend to him in the middle of the night. X-rays and ultrasound revealed that Quinta's liver is abnormally enlarged, putting pressure on his other organs, including his stomach and his lung. Quinta was in such discomfort that I seriously considered euthanasia, but he held on and said that he still has the will to live, so I brought him home at 2 am.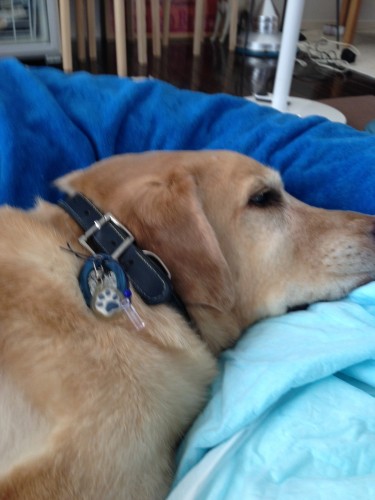 Quinta is weak but is able to get up to go to the bathroom. He still wants to eat but can't eat a lot in one sitting because of the pressure on his stomach, so a friend and I came up with a menu of foods to entice him, including mini pancakes with shredded vegetables and chicken liver (my friend, who has experience taking care of a dog suffering from cancer, came up with the recipe for these mini pancakes and says that cooking the pancakes gives off flavor that stimulates appetite). I also made mini hamburger patties to go with vegetable puree. Anything to keep Quinta's strength up. My friend brought me fermented fruit and vegetable juice, which we diluted with mineral water and which Quinta loved. Here in Japan, we have a long history of fermented foods which are suppposed to do wonders for both humans and animals.
Quinta says "Not today". He is holding on, because he is brave and strong, and knows his mom is not ready and needs time.